Direct Action for Visibility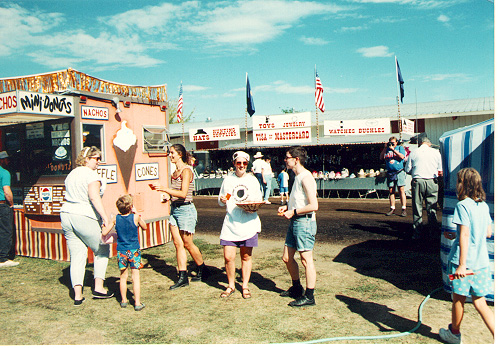 At the height of the Proposition One battle in northern Idaho, 40 activists staged a "Lesbian and Gay Freedom Picnic" at the Latah County Fair. Surrounded by lesbian and gay visibility banners on one side and pig barns on the other, dykes square danced and fags ate corn-on-the-cob as fairgoers looked on in surprise.
At the violent and homophobic nightclub Xenon in downtown Moscow, 45 lesbians and gay men showed up on a crowded Saturday night and held an all night "dance-in. Over the course of the night we slowly edged the straight dancers out of the way until the dance floor and the multiple stages surrounding it were almost completely filled by queer bodies.
On November 7, during the long evening's wait for Proposition One vote results in Idaho, members of the Lewiston Lesbian and Gay Society, Maia and Monty, set to work at the sewing machine. The bundles of pink fabric piled upon the window ledge were quickly transformed into a double sided triangle over a hundred feet wide. Lewiston Hill, which towers over the town, was adorned early the next morning with this gigantic symbol of lesbian and gay victory.
Direct action focused on lesbian and gay visibility is the center of our organizing strategy. It builds community, empowers lesbians and gay men, recruits people into the movement, educates the straight community, and demonstrates political strength. It's also really fun.
There are many reasons and many ways to plan a visibility action. Within the context of anti-initiative organizing, challenging the closet for its own sake can be an effective organizing method. We can make a powerful statement simply by being places we're not supposed to be. So when planning an action, don't worry if it's focused on something specific to the initiative or not. The point is for folks to see lesbians and gay men acting up, being proud and claiming our spaces. We think it may help us in the vote--whether people like our action or not, lots of visibility does shift the terms of debate in ways that most people won't acknowledge. It makes it impossible to deny our humanity, if nothing else. And it definitely will create more queer space in your town.


---
Table of Contents | Home